Search results for:
20-30 €
Color: White
Type: Sparkling – Dry
Trademark: Segura Viudas
Blend: 67% Macabeo, 33% Parellada
Location: Torrelavit
Country: Spain
Price: 28 €
Description: Straw yellow in colour, with a small, fine, plentiful mousse. The opening aromas are of the ageing on lees, lightly smokey, with touches of biscuit or bread, which are followed by hints of honey, fruit and flower petals. The palate is excellent, fruity and full of flavour, with dried fruits from the lees ageing, but very elegant, giving the drinker a delightful sense of abundance.
Combined: It is a perfect companion to truffle influenced dishes, such as truffle oil drizzled pastas. White fish – sole or monkfish à la meunière, or even traditional Mediterranean casseroles are perfect companions, as are cooked or cured hams, and soft white cheeses such as brie or camembert. It marries perfectly with meat dishes, such as fillet of venison slow braised in a shallot sauce.
Color: White
Type: Sweet
Trademark: Cordier

Blend: Semillon
Location: Sauternes
Country: France
Price: 30 €
Description: A sweet wine from Sauternes, Bordeaux, a widely-known region for its sweet wines. Lush, golden color, delicate and warm aromas with senses of fig and honey, as well as hints of ripe fruits and flowers. It leaves a long, sweet and fresh aftertaste.
Combined: Served as aperitif, pairs with blue cheese or with fresh fruits.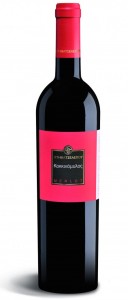 Color: Red
Type: Dry
Trademark: Tselepos
Blend: Merlot
Location: Tegea, Peloponnese
Country: Greece
Price: 27,70 €
Description: Deep red colour with a rich velvety texture. Aromas of ripe red fruits with a delicate presence of vanilla and chocolate. Smooth tannins and a long finish characterize this round, well-structured wine that can be cellared for 10 to 15 years.
Combined: Red meats grilled or cooked, duck and dishes with red spicy sauces.