Search results for:
Aegean Islands
Color: White
Type: Sweet
Trademark: Limnos Wines

Blend: Muscat
Location: Limnos
Country: Greece
Price: 40 €
Description: Bold and intense Vin de Liquer with a strong character of aged Muschat flavor in oak barrels. A fine dessert wine, exemplar of sweet wines from Moschato of Alexandria. Deep orange in color with copper reflections. A complex bouquet of flowers, honey and spices. Full flavor with notes of dried fruits and nuts. Fragrances of sweet grapes, fermented raisins, walnut, honey, orange and caramel. Mouth rich with a long aftertaste, with lack of acidity.
Combined: Served as aperitif, pairs with fruits. (8° C)
Color: White
Type: Sweet
Trademark: UWC Samos
Blend: Muscat
Location: Samos
Country: Greece
Price: 16 €
Description: Samos Nectar is one of the finest wines in the world from overripe, sun-dried grapes.  It ages for 6 years in oak barrels. Its color is deep amber, with beautiful orange hints, with a nose of raisins, dried fruits, honey and dried nuts. Good acidity, long aftertaste with smoky notes and macaroons. It maneuvers between aromas of raisins, plums and roasted cinnamon.  In the mouth one can detect hints of toffee, raisins, walnuts, mature oranges, cloves, intertwined with sweetness and "coated" with an amazing minerality that gives a completely new dimension to the sweet sun-dried wines. The mouth surprises us with its freshness, giving the wine a leading role on the table. At the temperature of 12-14 ° C, Samos Nectar takes control of the palate and sends it on a journey of intense aromas and mature sweetness.
Combined: A harmonious and powerful ensemble that can easily accompany exotic sweet and sour dishes (eg wild boar with quince, duck a l'orange etc.), "strong" desserts such as baklava and walnut pie, chocolate and caramel desserts or with roasted nuts. It is also combined with strong cheeses such as stilton (blue and white), matured goats' cheeses and various smoked ones.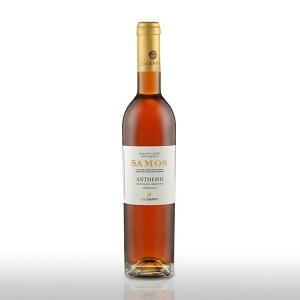 Color: White
Type: Sweet
Trademark: UWC Samos
Blend: Muscat
Location: Samos
Country: Greece
Price: 10,30 €
Description: An impressive wine with a deep orange color and bronze hues, testifying to its 5-year aging in oak barrels. Aromas of honey, honeycomb, butterscotch candy, fruit preserves, cherries dipped in alcohol, background of cocoa and chocolate, compose a highly complex and profound bouquet that has been built layer by layer. In the mouth, the wonderful balance of Samos Anthemis manages to maintain almost intact the primal freshness and the noble aromas of Muscat with the tertiary aromas of aging emerging and combined uniquely with those of dried fruits, tobacco and chocolate that give a truly "special" wine.
Combined:It is perfectly matched with haute confiserie creations with a strong sweet taste and aromatic complexity. Also with traditional oven sweets, aged yellow cheeses, tarts and sweets with dried nuts, fruit tarts, foie gras with sweet quince or fig, handmade ice cream. On its own, after the end of a dinner, it delightfully accompanies a light cigar. Served at 12-14ºC.